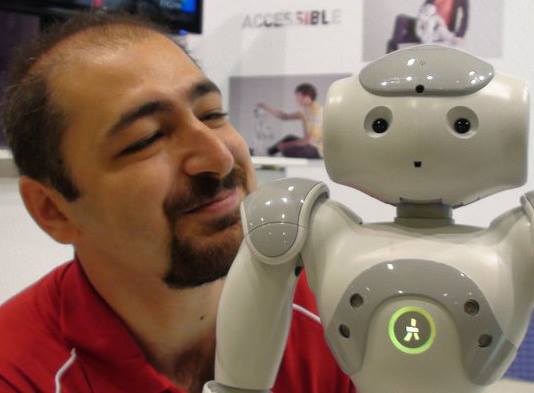 Çetin Meriçli
National Robotics Engineering Center
Robotics Institute
Carnegie Mellon University
Research Interests
Robot learning from demonstration
Imitation learning
Open-ended robot learning
Developmental robotics
Human-robot interaction
Interactive entertainment robots
Sociable robots
Robot soccer
Multi-robot systems
Metric definition and evaluation methods for performance evaluation of multi-agent systems
Probabilistic robotics
Robot perception
Software engineering methodologies for large scale robotic software development projects
My long term vision is to create completely autonomous robots that will work around and with humans in a safe and collaborative manner. I envision robots that can continuously learn and update their behaviors through interacting with and learning from humans as well as self exploration, and I have been working towards that vision, building robots and developing algorithms for single and multi-robot systems. My research interests lie in the intersection of artificial intelligence, machine learning, and robotics, and include behavior learning and shaping through human feedback, developmental robotics, interactive learning, sliding autonomy through learning, mixed-initiative human-robot collaboration, human behavior understanding, and multi-robot teams.
My current research is on effective behavior shaping using human feedback for enabling untrained users to easily customize and correct robot behavior as well as teaching new behaviors. I am particularly interested in applying my research to the real-world problems faced in biomedical research laboratories and hospitals, and addressing these problems by deploying teachable robots to handle repetitive tasks, such as pick and place and transportation operations, that do not require expertise. As a result, I aim to improve the biomedical experimentation processes as well as the quality of service provided at the hospitals.
Beyond my primary research directions, I also do research on human detection, intention understanding, robot vision, world modeling and task allocation for multi-robot teams, and multi-robot coordination. I published on topics such as market-based task allocation for robot teams, metric definition and validation for multi-robot task allocation, software quality evaluation, multi-robot world modeling, and saliency-based joint attention modeling. I also co-developed an expressive robotic head for human-robot interaction research.
Current Achievements
In my PhD dissertation, I contributed a novel learning from demonstration algorithm, Model Plus Correction (M+C), which enables an existing robot controller to be modified, extended, and corrected with human feedback. In the M+C approach, the robot executes a behavior using an existing algorithm while a human teacher oversees the execution. The teacher intervenes to provide corrective feedback only if he or she wants to change the current action of the robot. The robot stores the received corrections associated with the perceived system state. During autonomous execution, if there are any correction actions received in a situation similar to the current state, that action is executed instead of the one computed by the default controller. In comparison to the common approach of learning how to perform the task or skill from scratch, utilizing an existing algorithm and learning only the necessary corrections allows the demonstrator to effectively update robot behavior as desired by providing only a small number of demonstrations.
Exploiting the fact that not all situations a robot encounters require equally complex and detailed algorithms and state representations, I further generalized the M+C approach into the Multi-Resolution Model Plus Correction (MRM+C) algorithm. In MRM+C, the robot operates and gets corrected at multiple detail resolutions. Each detail resolution runs an M+C instance with state representations and actions defined at different granularities. The M+C instances in coarser detail resolutions employ simpler algorithms. The robot favors coarser detail resolutions as much of the time as possible, and learns which detail resolution to use in a given state of the system through corrective human feedback.
I applied the M+C approach to improve the walk stability of a humanoid robot where the teacher provides corrective feedback in various forms using a Nintendo Wiimote game controller. Combining the underlying walk algorithm with the received corrective feedback, the robot was able to exhibit a considerably more stable walk gait. I also evaluated M+C on a ball dribbling problem where a humanoid robot tried to score a goal as quickly as possible without bumping into the stationary opponent robots randomly placed on a robot soccer field. After a brief training session of providing the robot with a small number of corrections, the robot was able to score more goals quicker. Finally, I evaluated the MRM+C approach in a humanoid obstacle avoidance task. The robot running MRM+C performed comparably good to the finest detail resolution while maintaining a considerably smaller computational footprint.
Research in Progress
My current work leverages the principles I introduced in my dissertation to expand capabilities and improve performance of mobile service robots operating in dynamic real world environments. Such environments range from office buildings to hospitals where service robots interact with different types of untrained users while performing tasks like transporting objects, delivering mail, and escorting visitors. I am investigating problems that arise when interacting with many untrained users in everyday environments. These problems include how to interleave execution and learning from feedback, how to incorporate feedback into future executions, how to handle conflicts and incomplete/incorrect feedback received from multiple people, and how to instruct robots using natural language. To extensively study these kind of environments and interactions, I developed a realistic 3D simulation framework that can be used to simulate various scenarios with accurate robot and crowd models.